Help Fund Dental Care in Haiti
Donate to the Dental Fund
The Max & Thérèse Cadet Dental Fund Inc (MTCDF) is a not-for-profit 501 (c) (3) organization (EIN/TAX ID Number: 88-1910778) in the state of New York. MTCDF supports makes donations to Fondation Max Cadet (FMC), a Haiti non-profit foundation, which operates a dental clinic in the capital, Port-au-Prince. MTCDF collects funds, in-kind donations of dental equipment, supplies and other materials for shipments to Haiti.
As a not-for-profit organization we rely on donations to provide free quality dental care to school children and low-cost care to underprivileged Haitians. Our clinic focuses strongly on preventive care. Our services encompass the following: preventive care, periodontal surgery and treatment, endodontics, orthodontics (Braces and retainers), oral surgery, restorative dentistry. Our on-site dental laboratory allows for the fabrication of crowns, bridges, artificial teeth, and dentures.
Because we are currently the only clinic in Port-au-Prince able to provide such a variety of care under one umbrella, patients travel from all over the country to come to our clinic. In addition, Haitians living in the diaspora who do not have dental coverage in the country of residence also seek our care as they visit family.
Donation Options
Make check payable to the Max & Thérèse Cadet Dental Fund Inc
Make a Zelle or Paypal payment to Citibank using email: cadetdentalfund@gmail.com
Credit & Debit Card Accepted
Sponsor a child's preventive dental care for one year – $50.00
Sponsor preventive dental care for a primary grade of 50 students – $2500.00
Make a one-time gift
$10/ $25/ $50/ $100
 Make it monthly – $10/month $25/month $40/month $100/month
Donate excess dental equipment and supplies
To help give the clinic of the Fondation Max Cadet a permanent home, please contribute 100.00 or more toward the purchase of the land that the clinic currently sits on.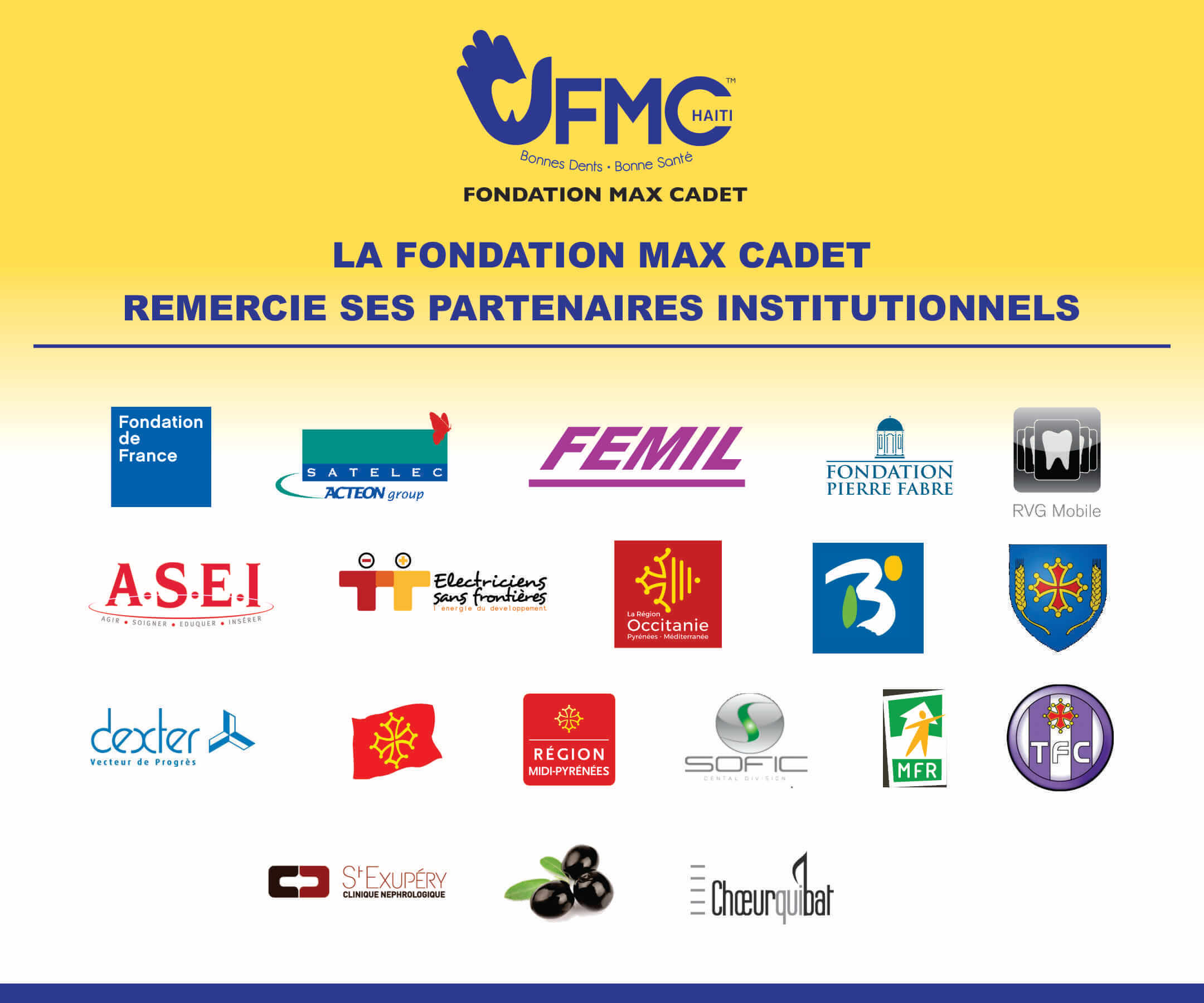 For the dental clinic to expand its services, the management of FMC has addressed key issues that go beyond the day-to-day operation of the clinic. The following major projects are being tackled in alignment with the 3 pillars of FMC:
Production of renewal energy (in photovoltaic) on the rooftop of the dental clinic
Quality and quantity of the water supply
Acquisition of the land where the dental clinic in Canapé-Vert operates
Implementation of new oral programs for school children
The recovery of the dental clinic after the earthquake of January 12, 2010, would not be possible without the ongoing financial and technical support of the various organizations and individuals listed below:
Fondation de France – the Occitanie Regional Council – the City of Toulouse – the City of Balma – City of Donneville – the MFR Midi-Pyrénées Regional Federation – Toulouse Footbal Club – Pierre Fabre Foundation – Sté Femil – Henry Schein – Clinique St Exupéry Toulouse – Stés SOFIC – SATELEC Actéon – STARDANT – DEXTER – TROPHY – Dr F. MOUYEN, Dr. E. PHILIPPE, Dr. E. Tarabey and Dr. D. Durosier – NGO Electriciens Sans Frontières – Choir ChoeurQuiBat – Groupe Esquisse Foyer Périole ASEI – A-Dent -Keeler Motor Company – World Dental Relief -DCI- Spencer Foundation – Filippa Errante – Rosa Maria Garcia – OMS Haiti – Food for the Poor – Dr Caroline Stern – Dr Fabiola Milord Estate of Dr Mark Paul Shnitkin – Rod Feeney, Fidelity Handpiece and the many donors who are friends of the Fondation Max Cadet.